about me
My interest in the nature of health and disease began with my degree in Human Sciences at Sussex University in 1988. Whilst studying Health Psychology I became interested in understanding the links between the mind and the body in health and disease. I then went on to train for 5 years at the North West College of Homeopathy and have been a registered Homeopath for over 20 years.
I ran Homeopathy clinics in South Manchester and Knutsford until I started a family in 2003. Subsequently I have worked from my home in South Cheshire and have continued to practice Homeopathy in Manchester.
a particular interest in
Children's ailments
Pregnancy, labour and babies
Women's ailments and hormonal disturbances
Work stress, burn out and mid life crisis points
Homoeopathy works well with all "functional" health problems. This means when there is no clear diagnosis but a feeling of unwellness remains.
In an audit of my clients seen between 1999 and 2003 I supported 47 children. 15 of these had eczema and 15 had common childhood ailments. I also supported 164 adults. 24 of these were women with hormonal related disturbances and 19 with depression and anxiety. Other common complaints include digestive related ailments (14), allergies (14), muscular skeletal problems (14), post viral syndrome (7), sinusitis (6), asthma (5), acne (5) and cystitis (4).
other areas of Interest
Teaching Homeopathy in Adult Education Colleges and at the North West College of Homeopathy
Trained in Spinal Touch Therapy in 1990
An interest in Continuing Professional Development has supported my practice and kept me up to date with modern movements in the world of Homeopathy.
2001 - Post graduate training with Dr. Ramakrishnan which included a Homeopathic Approach to treating Cancer
2009-2011 - Completed post graduate studies on prescribing homeopathic remedies from the periodic table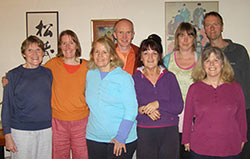 Yoga Training
I am trained to teach in the Satyananda tradition and received a diploma from Mandala Yoga Ashram to teach Yoga in 1997
I then went on to teach Yoga in Manchester for 4 years
I have more recently taught Yoga again in Manchester and have hosted annual Yoga days there
In November 2012 I hosted my first Yoga day at Church Minshull Village Hall in Cheshire, and intend to do this more regularly in the future.
In 2017 I was interviewed at the Sacred Feminine Festival. The interview can be found in the last 5 minutes of the Youtube film below.
I have completed my Homeopathy for the Chakras workshops for 2020 and will resume these in the future when it is easy for people to meet up at workshops again.
Consultation Rooms
Click on the postcodes to see location maps
Winsford
Winsford Rd
Cholmondeston
Winsford
CW7 4DP
t 01270 528116
m 07950 013 537
Manchester
23 Wilbraham Rd
Fallowfield
M14 6FG

t 0161 257 2445
Online
I now offer online appointments via skype, zoom or whatsapp. Please get in touch for details
Email
e helen@byprem.co.uk